The designer life: one month in
Holy moly. It feels like I have been doing this forever. But it's been a month! I finished my employment and officially became self-employed on August 31. And now it is October 1 (sorry a little slow on the blog post).
When I say it like that, I really have to give myself some credit.
Things are still building. But when I look at how much I've done… WOW.
I've been thinking today, it's a little ironic. I left a 40 hour working week to be working all hours of the week. But honestly, it doesn't even feel like work. Yes, there are some parts that aren't all that enjoyable (accounting, I'm looking at you). But sometimes I can't believe I get paid to design and do what I love.
Current jobs
I have some pretty cool client jobs in the works- posters for a medispa, a rebrand for a clothing boutique, posters for a lunchbox delivery service, a rebrand for a builder, tampon packaging design, to name a few.
Client work always come first. But I'm trying to still build things in the background. I have client agreement drafts from my lawyer I need to read through. I need to tidy my website some more. Figure out my accounting software. That's not a fun one. Purchase insurance. Also not a fun one. Once those things are in place, I hope things will run a lot smoother. And I will feel more established to go out and seek clients some more.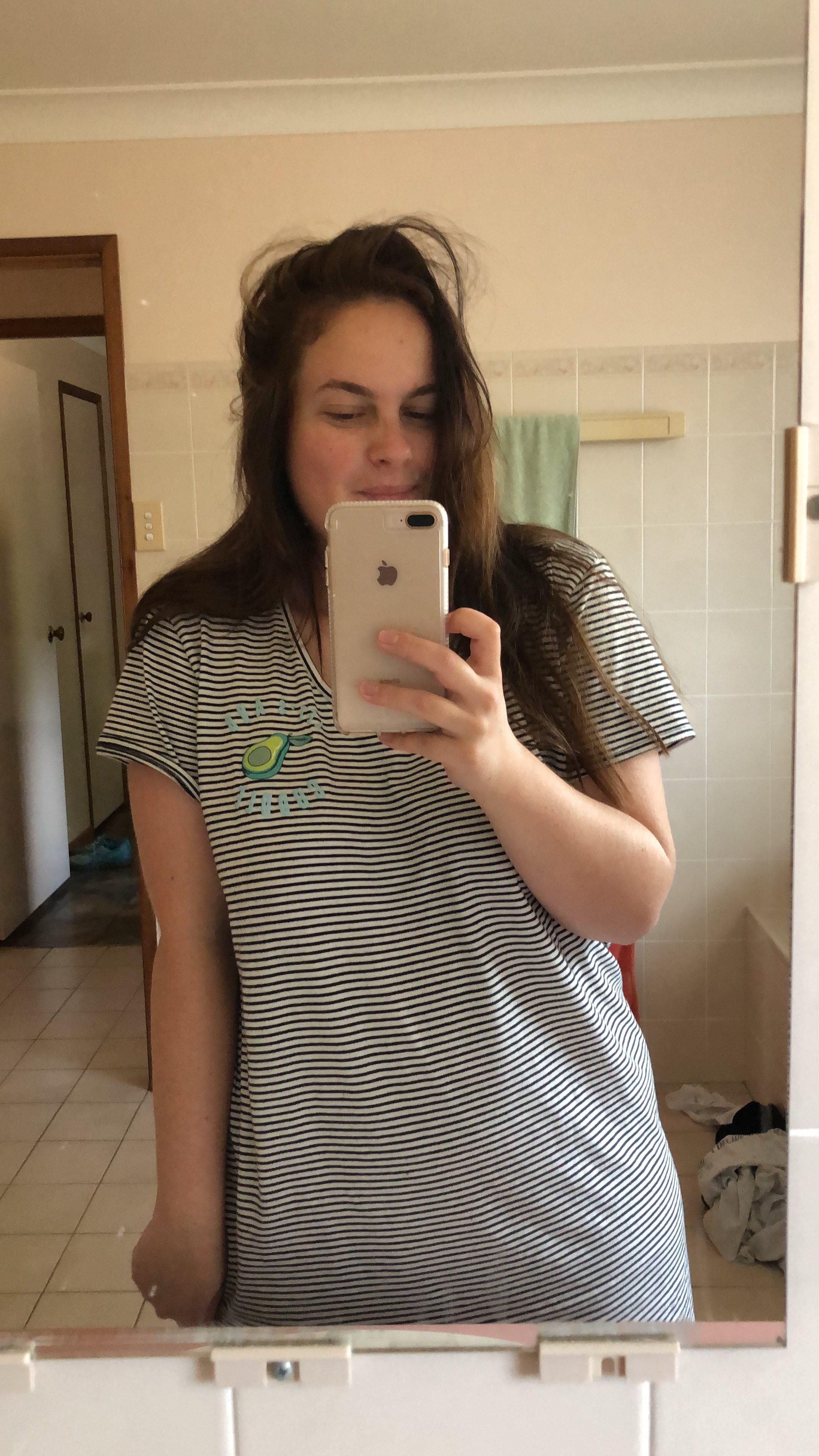 How good is it to work in your PJs
Instagram workshop
This month I taught a free Instagram workshop at Canvas Coworking Space. It went so well. Now I have lots of ideas I'm working on for Instagram audits, strategy sessions and even content creation. I know coming up with content is a huge issue for small business owners. So I'm working on some pretty awesome stuff that I think will help with that. I have such a massive love of Instagram. I know some people have a love/hate relationship with it. But I feel like it's such a positive space and I've built so many awesome connections and gained some great clients, even though I don't have heaps of followers.
The roller coaster ride
I'm still learning to get comfortable with the feeling of being uncomfortable. There are days that I panic that no more clients will ever come through my door. Then the universe will deliver.
I had a small car prang (I'm fine!) last week and that one really upset me. I'm trying so hard to save money (because hello, no steady income yet) and I really did not need an $800 insurance excess bill.
Which led to a slight panic attack.
But head up, I just have to have faith that this will all pay off. I also need to get much better at pricing my services. I am forever undercharging to try and get the job. Promise to myself that will be my focus going forward. As I pay for things when shopping now, I see it equate in my head. I'm like yep so that's half of that poster job on this item. It makes you so much more aware. When I had a full time job, I was terrible for that. But my good friend taught me to bless money as it goes, and trust it will come back. So I'm doing my best to focus on that.
Learnings
One thing I'm definitely learning quickly is to only work with clients that I feel is a good fit. And to not waste time in consultations. This is SUCH a big time chewer. I've now built an app into my website that links into my calendar so clients can book their initial consultations. And while it may seem unfair to some, I've charged for consultations. I just can't afford to be away from paying clients, to offer all my knowledge and advice for free and then nothing comes from it. Lesson learnt there!
Health
Well my period was a week late (you know I'm an oversharer). If that isn't a sign that I'm over stressing my body, I don't know what is. My tummy troubles haven't been tooo bad. But I still get really bloated. I see my gastroenterologist in two weeks time so I'm going to ask him to run some stool tests and check all the bacteria in my gut. I just feel like the low FODMAP diet should not be the answer to fixing my IBS. There has to be something else going on. I know my body, and this doesn't feel like the answer. Stay tuned in this space.
Next month
So much happening next month. I'm going to the Brisbane North Small Business Expo this week to check it out and see if I want to purchase a stall for the Toowoomba one. I really need to finish my price guide and put it up on my website for clients to download. I need to sort out my accounting (yes Dad), a client management system AND most importantly (or the most exciting) get my prints on my website ready to sell! Oh and focusing on these Instagram sessions… more to come there.
Bye byyyeee
That is probably enough of my ramblings for now. I just wanted to mark the one month completion in some way. Probably mostly so that one day I can look back and thank myself for doing the hard yards to get to the point I will be at.
Sometimes I dress up a bit.